*This article may contain affiliate links. As an Amazon Associate, I earn from qualifying purchases. For full information, please see the disclaimer here.
Foot heating pads are must-haves for people who have perpetual cold toes. After all, it's tough to be productive when your toes are constantly freezing.
Whether you're working from home or at your seemingly arctic office, comfort should be a top priority. And heated foot warmers are made just for that.
What are foot heating pads?
You can think of foot heating pads like a warm sleeping bag – but for your feet. Along with heated floor mats and heated footrests, they are a simple yet effective treatment to relieve foot discomfort, especially during chilly winter months.
The beauty of these feet warmers is that they are not only limited to seasonal use. They can also ease muscle sores, cramps, and arthritis pain, to name a few. These warm pads are perfectly designed to use while working at a desk or even simply lying in bed.
To help you make the right purchase, we've rounded up the best foot heating pads that will become your newest snuggle buddies.
Best foot heating pads in the market
First in this list of foot heating pads is this large electric foot warmer by Gintao. Measuring 22 x 20 inches, it provides more than enough room to share with someone. Moreover, it has three temperature settings that you can easily adjust based on your needs.
This low-voltage gear heats up quickly, keeping you warm and treating your sore muscles almost as soon as you turn it on. And to prevent overheating, it automatically turns off after two hours.
Made from ultra-soft flannel fabric, this heating pad for feet is perfect for people who have sensitive skin. And while primarily used as a foot heater, it can also double as a back warmer. Talk about dual-purpose!
Check the price of this foot heating pad.
Key features:
Automatically turns off after 2 hours
Three temperature levels
Soft flannel
Wide enough to share
Detachable and machine washable (no tumble dry)
This ultra-soft flannel heating pad for feet is the perfect addition to your home and office desk set-up. It comes with a 10ft cord so you don't have to hunker down by the socket. You can use it under the desk, on the sofa, or while lying in bed.
One of the best multipurpose foot heating pads, the FIGERM pink electric warmer can also act as a heating pad for your hands, legs, back, and abdomen. It heats up fast and evenly, providing instant relief for muscle aches and other chronic pains.
At 22 x 20 inches, you can even share this with your loved one. And with three heat adjustment levels, you can be sure to stay cozy under.
Check the price of this foot heating pad.
Key features:
Large size ideal for sharing
Three heating levels available
Two-hour auto shut-off
Extra long cord
Portable and machine washable
The very versatile foot warmer by Comfier also functions as a heating pad for other parts of the body. Though only 14 x 30 inches in size, it can transform into a foot warmer by simply folding and attaching the buttons.
Comfier heated foot warmer pad runs on low 12V voltage input of AC adapter, making it very safe for everyday use. It's a great foot warmer for office or home use, whether under the desk or on the bed.
Safety is a common concern when it comes to foot heating pads. You won't have to worry about that because this product has a built-in thermostat and a 60-minute auto shut-off feature that protects it from overheating.
Check the price of this foot heating pad.
Key features:
12V low voltage input
Comes with overheat protection thermostat
60-minute auto shut-off
Ultra plush material
Washable and portable
With this foot heating pad, you can stop counting sheep and snuggle up instead. This electric heated pad by Serta uses the highest quality fleece fabrics with a soft fiberfill center for utmost comfort.
At 35 x 20 inches, the oversized pocket of this plush warming pad is perfect for therapeutic warmth. Thanks to its user-friendly and intuitive controller, choosing between four heat settings is easy peasy.
Designed with safety and energy-saving in mind, this heating pad turns off automatically after four hours. To top it off, it's machine washable. You can tumble dry it in a low setting.
Check the price of this heated floor mat.
Key features:
Auto-off feature

Four heat settings
Easy-to-use warming controller
High quality soft fabric
Machine washable
Want a foot warmer that can massage your tensions away? Snailax has a heating pad with shiatsu foot and back massage that offers a spa-quality experience at home.
This foot massager and heated feet warmer distribute soothing heat evenly, which significantly improves circulation. It has a zipped, removable design that lets it function as a back, waist, and belly massager.
Shiatsu nodes and a toasty temperature make this foot warmer perfect for easing feet pain and tired soles. Plus, it's made of soft polyester material and has a non-slip rubber bottom. For safety, it also comes with a 15-minute automatic timer.
Check the price of this heated foot massager.
Key features:
Can function as foot and back massager
Convenient zipper design
Remote control operated
Shiatsu nodes for deeper kneading
Washable
Made of high-quality plush material and featuring a fast-heating technology, the Proaller electric feet warmer is a great foot heating pad for perpetually cold people. With two size options (16 x 22 inches and 22 x 20 inches), you can choose to cozy up solo or with a loved one.
This heated foot warmer comes with three heating levels that can easily be controlled via its long cord. And with an automatic shut-off timer of two hours, you can be sure that you'll warm up safely and conveniently.
Speaking of safety, this foot heating pad is ETL certified and meets all standard safety requirements so you can use it without worries. It's also super easy to clean and can be machine-washed.
Check the price of this foot heating pad.
Key features:
Fast heating
Three adjustable temperature levels
Automatically turns off after 2 hours
Comes in varied colors and sizes
Machine washable
If you have a work-from-home or office set-up, this foot heating pad by Novamilion will keep you warm and snug at the temperature level and timer setting you prefer. That's because unlike others on this list, this one is highly customizable with its six heating levels and four turn-off timer settings.
Made of super soft and comfy flannel, this heating pad for the foot is genuinely effective for relaxing and soothing your twinkle toes. At 16 x 16 inches, it's large enough to fit most feet sizes.
A multifaceted product, this foot heating pad can also be used for moist heat therapy. Just spray a fine mist or dab a wet sponge to the pad. Then place the moist side against the body.
Check the price of this heating pad.
Key features:
Six heating levels (ranging from 104°F to 140 °F)
Four timer options (30/60/90/120 minutes)
Fast heating
Can be used for moist heat therapy
Machine and hand washable
You'd think you're stepping into a pillow when you use this electric heated foot warmer by FIGERM. All that extra cushioning makes this a snug foot heating pad.
Aside from the extra padded comfort, this foot warmer also help protect your feet from bad circulation, muscle pain, and cold floors. The padded design is not just for aesthetics; the soft and thick flannel keeps the heat inside the pad, making it the perfect addition under your office desk.
You can adjust its three settings: low, medium, and high according to your preference. It also has a built-in auto-off feature that turns the device off when it gets too hot. So you never have to worry about leaving it on its own.
Check the price of this heated foot warmer.
Key features:
Fast-heating
Auto-off feature
Three heat levels
One size fits most
Cushiony and soft flannel
For an extra comfy time in bed or while working in the office, the blue Tizlo foot heating pad is worth considering. This under-desk foot warmer provides long-lasting comfort with its micro-plush fiber material and fast-heating technology.
With its large size of 22 x 21 inches, this heating pad can be used for an aching body or shared with another pair of cold feet. Like many foot-warming pads available nowadays, it has a 3-temperature setting mode.
This foot warming pad provides heat and relief to muscle tensions and pains with your safety and convenience in mind. It has a 10-feet long cord and an auto timer of 2 hours so you're in safe hands.
Check the price for this foot heating pad.
Key features:
Fast heating technology
Three heat levels
ETL certified
2-hour auto-off timer
Machine washable
Finally, we have DailyLife Heated feet warmer, which makes safety an absolute priority. Not only is it UL certified, but it also has a PTC temperature controller, an NTC temperature sensor, and reliable circuit system protection.
This heating pad for feet comes with six temperature settings (95°F, 104°F, 113°F, 122°F, 131°F, and 140°F), paired with a two-hour preprogrammed shut-off feature.
This is a perfect, cost-efficient foot warming pad not only for office and home use but also for camping. Although it's pretty big (20 x 24 inches), the thin wires allow quick heat distribution minus the bulkiness. It is made with soft flannel for an a cozier feel.
Check the price of this heating pad.
Key features:
Equipped with multiple safety technologies
Six temperature control settings
Two-hour automatic timer
Fast and even heating
Portable and washable
What are other ways to keep your feet warm?
Finding relief for cold feet is no 'walk' in the park. I find it so uncomfortable to go about my daily activities when my feet feel so cold they start to hurt. Wearing extra thick socks and slippers can be inadequate, especially in freezing temperatures of wintertime.
While being active is also an effective way to keep warm, it's just impossible to keep on lazy, cold days. Fortunately for us with poor circulation (and who hate to work out), we live in an era of heat pads. There's an unlimited selection of products available nowadays.
Heated footrests, foot mats, and under-desk heaters are only some examples of the items available to warm your feet. Single-use toe warmers are suitable for those who want to warm up their extremities from time to time. There are also rechargeable heated socks for those who enjoy outdoor activities on cold occasions.
FAQ
How do you choose the best heating pad for feet?
Always find those made from warm fabrics such as cotton or flannel like Gintao's. It's also essential to find foot heating pads with auto-shut-off features and certifications related to safety, such as DAILYLIFE's foot warmer.
Many heating pads for feet also have temperature control settings so you can adjust the heat according to your liking. If you're willing to pay extra, there are foot heating pads that double as massagers like Snailax.
For more options, check this full list of under desk foot warmers.
Are foot warming pads safe to use?
Generally, yes. But like everything else, there are certain precautions to follow as they are devices that emit heat. People with sensitive skins, especially young children, elderlies, and those who have diabetes, have reduced sensation to heat which may cause accidents.
Always read the package instructions and use the product as directed to avoid problems.
How to wash foot warming pads?
Many of the foot warmers we listed here are machine washable. Just remove the cord, use mild detergent and cold water and wash on a gentle cycle.
How many times a day can I use a heating pad?
This depends on the temperature level you set the heating pad in. To be safe, use heating pads between 15-30 minutes per hour and never sleep with them to avoid getting burned.
Why are my feet always cold?
Poor circulation is the most common reason for cold feet. Some chronic conditions also cause cold feet. It's best to see a doctor if more associated discomfort arises.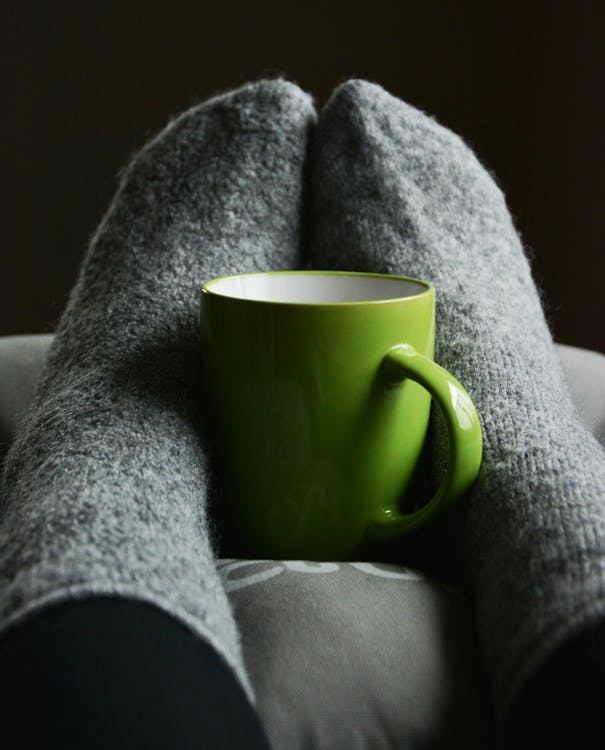 Why suffer through cold feet when you can get all snuggly and cozy? These foot heating pads will not only bring warmth to your precious toes but also ease whatever pain the cold has been causing you. So, what are you waiting for? These foot warmers are just a few clicks away!